Well, I guess we were bound to be on someone's list sooner or later.  We're honored to be in the company of such a great list of drag queen sites.
Feedspot gave us a spot right under RuPaul herself and there's no place we'd rather be!  So thank you, we're not exactly clear on things, but we like the company we're keeping on the list.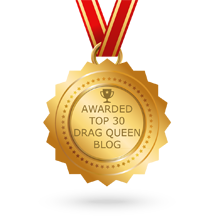 Please take a gander at the rankings and see if you agree by visiting Feedspot HERE.
I guess this means we should probably keep this going?  We're honored and grateful.  Thanks Feedspot!